In looking at the evolution of experiential marketing, technology & entertainment brands were pioneers in the space. They represented the early adopters.  CPG also hopped on the bandwagon very early, recognizing there is no parallel for the ability to put your product directly in someone else's hands.  Today, all brand categories recognize the opportunity to reach their consumers via experiences.
But what you may be surprised to learn is just how many companies are turning to experiential for their B2B marketing objectives. Companies are really valuing its role in introducing, strengthening or repositioning a brand among their clients (retailers, media buyers, distributors, etc) not just their consumer base.
Here's where we've seen experiential marketing exploding:
Agency Activations
Want to get face time with ad agency executives to promote your media opportunities? So does everyone else.☺ Many of our TV network clients turn to us to design experiences that cut through the clutter, especially during Upfront season. What's more, we often bring these experiences right to the agencies themselves, affording ultimate convenience to the agency execs and thereby receiving a consistently high turnout.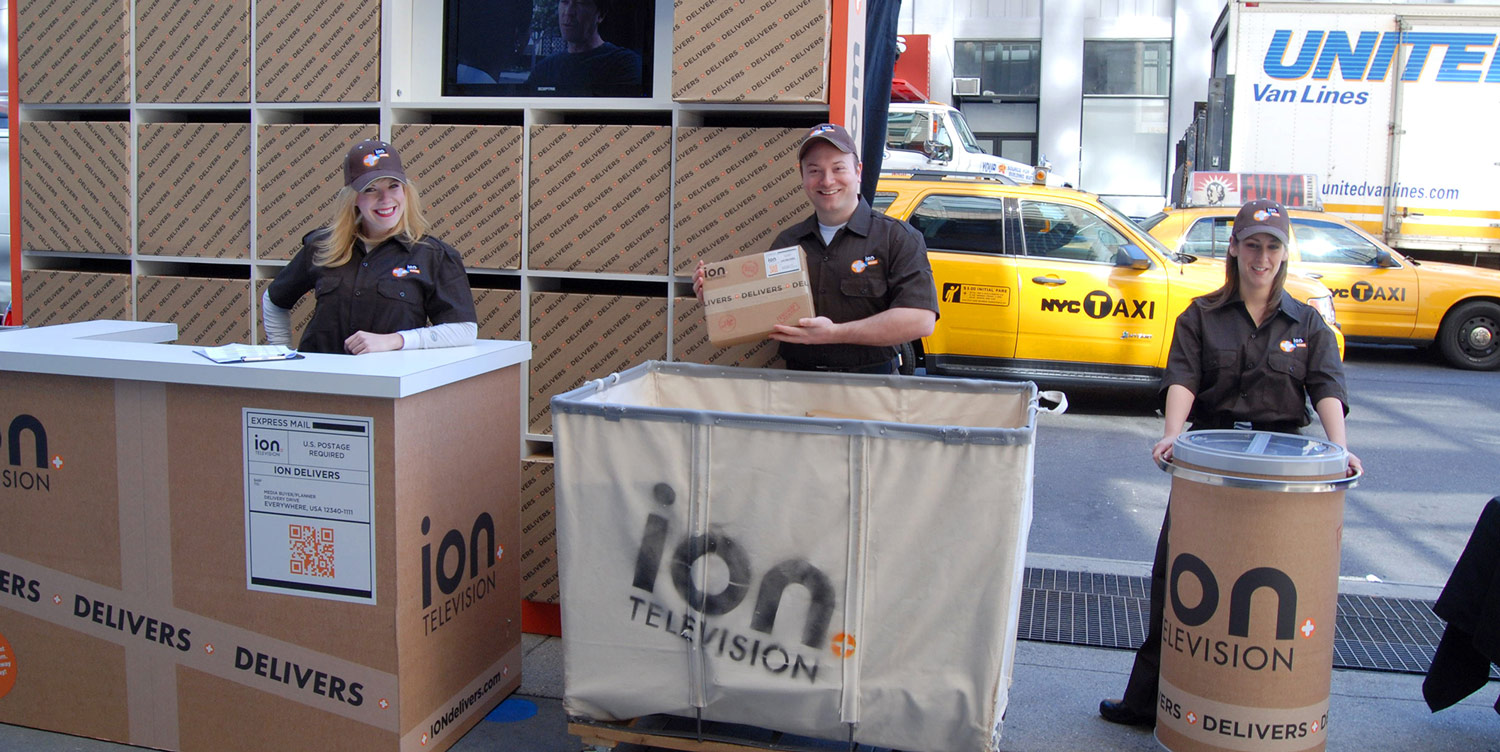 We brought ION Television's trade tagline (ION Delivers) to life in a very real way, when we created a mobile shipping center that we permitted right outside of media offices. We emailed shipping notifications to desired executives and hand delivered packages to our target audience.
Trainings
Did we catch your eyelids getting heavy just now? It's true. Training events have a bad reputation. People generally envision undergoing hours and hours of presentations in a windowless, fluorescent-lit meeting room. A lot of our clients are combatting that by creating immersive learning experiences that involve non-traditional venues, unexpected content & speakers and far more time doing, than listening.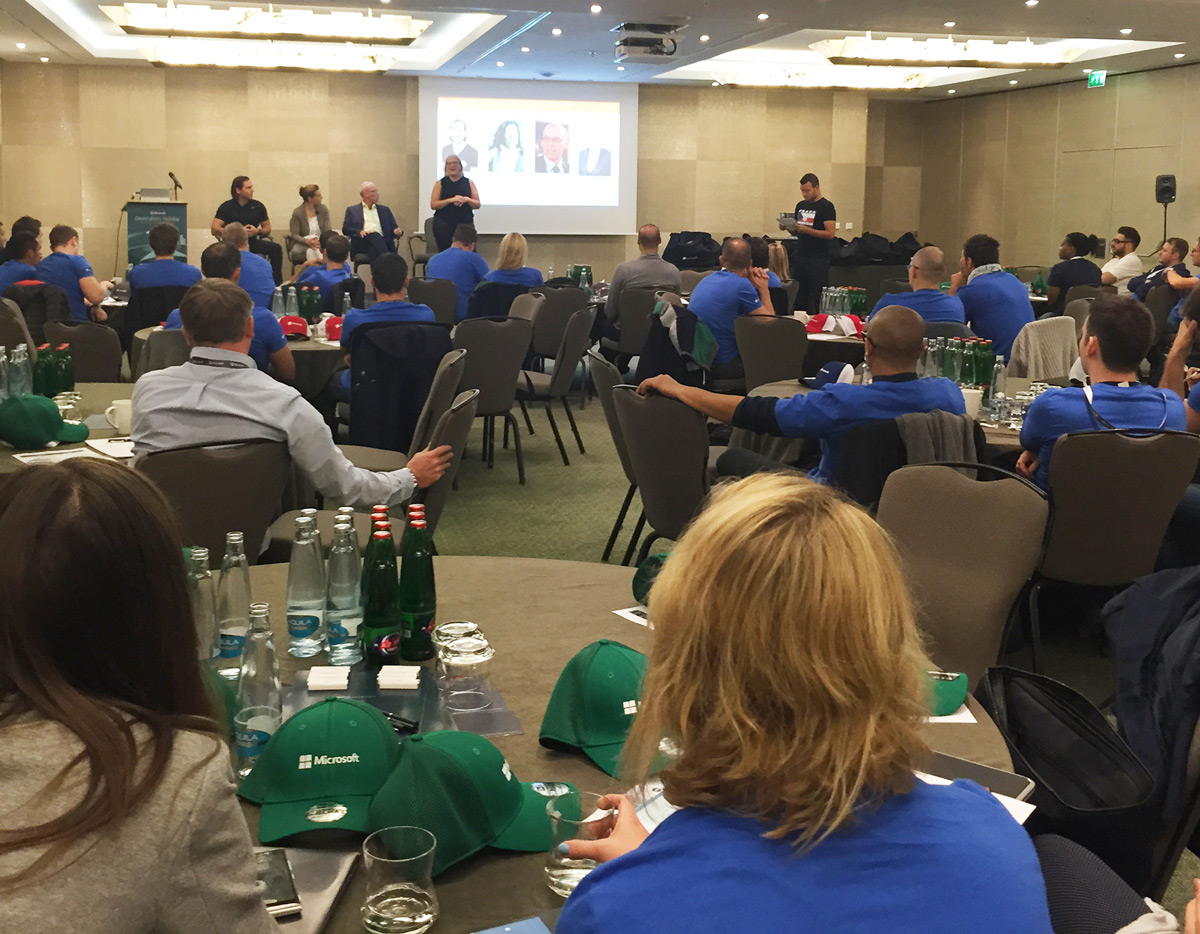 I recently had the opportunity to participate in a panel during a train-the-trainer event for Microsoft, which explored how a ballet instructor, personal trainer, management coach and experiential marketer (A.K.A me) approached training.
Trade Shows
More and more brands are realizing that their presence at a trade show does not need to be limited to a booth on the show floor or conventional sponsorship opportunities. Of course, the birthplace of this notion was Comic-Con but it's now spread to even the most conservative of trade events. You can work with host hotels to sponsor amenities for out of town guests, partner with a ride-share app to provide free rides to and from the convention center or bring a food truck onsite and surprise conference goers with breakfast and coffee. The opportunities are endless.
Conferences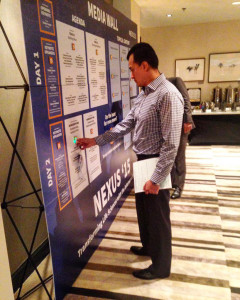 Brands are finding ways to make their own conference content far more engaging. A few years back, we helped bring a flash mob to the annual AARP convention. No one saw that coming! And thanks to all of the incredible technologies emerging in the event space, brands have countless opportunities to digitally and socially engage their audiences. Event apps, Instagram vending machines, touch screen EVERYTHING! We've even come across a virtual trade show environment, where you can attend as an avatar and never leave your desk!
Just last month, we worked with TraceLink to produce NEXUS '15, a thought leadership conference for the Life Sciences industry. Utilizing Poken's Near Field Communication technology, attendees received custom USB devices that enabled them to collect contact information, white papers and conference content in an instant, simply by touching devices to one another or to touch points onsite.
The best part about "E2B"? A savvy program can include a consumer element and a B2B element all at the same time. For example, a food truck can visit ad agencies one day and a street fair the next day. This creates a more affordable solution for brands since their respective teams are splitting the production costs, yet reaching two audiences. We believe this type of cross-departmental planning will only increase in years to come. It aligns messaging, shares resources, improves ROI and at the end of the day… isn't most B2B marketing ultimately B2B2C?
To learn more about "E2B" by way of M2A2G, give us a shout!
The michael alan group is a full-service experiential marketing agency & event production company. Check out our work and our team, and drop us a line to chat about injecting experiential into your B2B strategy.
https://www.themagexperience.com/wp-content/uploads/2015/10/20th_television_cookiebar_5.jpg
1333
2000
Erin Mills
http://michael-alan.com/wp-content/uploads/2018/09/logo-main-2-300x138.png
Erin Mills
2015-10-12 13:51:54
2017-03-13 15:11:18
E2B: The Increasing Prevalence of Experiential Tactics in B2B Marketing