At MAG, our Account Execs plan extraordinary activations; often juggling multiple campaigns at a time. Our design team doodles endlessly, bringing ideas to life daily. And Dug, the office dog, may soon master "Rollover."
But none of this work would be worth a dime without our remarkable crew of Brand Ambassadors. From facing early mornings to braving wild costumes, our BA's dive directly into project execution, delivering fine-tuned messaging and experiences directly to consumers.
Over the years we've worked with some of the best around, and we've learned just what elements make our Brand Ambassadors top-notch. Here are the qualities we expect in each of our BA's:
Dependability and Independence
First and foremost, any Brand Ambassador MUST be punctual and prepared for the role they will play. Even the most organized activations can quickly turn chaotic, and we expect all of our BA's to execute their duties independently should a manager need to temporarily leave. These qualities also go hand-in-hand with professionalism, and we ensure all of our BA's act responsibly and courteously at all times.
Enthusiasm and Energy
Nobody wants to sample a s'more from Negative Nancy or pose at a party with Gloomy Gary. A major part of being a Brand Ambassador requires being friendly, approachable, and ready to eagerly introduce consumers to a brand. We certainly don't expect (or advise) anyone to channel their high school cheerleading days, but an outstanding BA consistently maintains an air of positivity and liveliness. It's your time to shine, Happy Harry.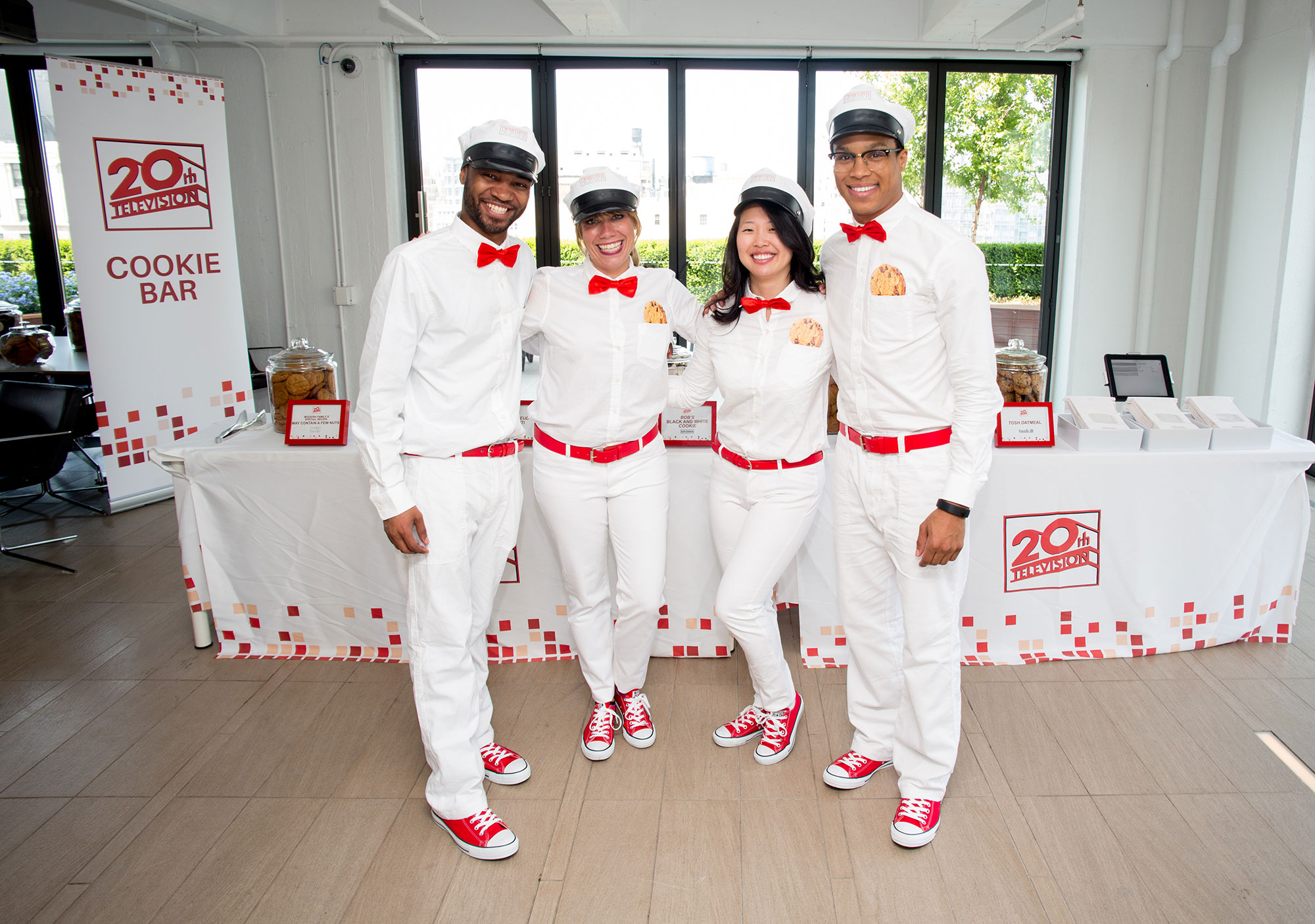 Just some of the wild costumes MAG's Brand Ambassadors may wear. Here, our "milk men and women" serve delicious treats at the Twentieth Television Milk and Cookie Bar.
Adaptability and Resilience
If there's one thing everyone in events can agree upon, it's that ANYTHING can happen. While a manager or account exec will handle any major complications, there are several obstacles that can arise that Brand Ambassadors must calmly and effectively address. Between wild weather changes, spikes in foot traffic, or a flux in supplies, a day as a BA can often be grueling, and the best of the best can handle it all.
Charm and Spunk
All other characteristics aside, the secret ingredient to a fantastic Brand Ambassador is simple: personality. We never hire brand-babbling robots (and not strictly because of their incessant malfunctions). Consumers want genuine conversations relevant to a brand, and our BA's are unique individuals from a variety of backgrounds. That's why, at MAG, we handle staffing in-house via a dedicated Staffing Department, and, because we know our BA's well, we can promise to provide the most charming, spunky, and best fitting Brand Ambassador for any target audience.
Interested in becoming a Brand Ambassador? Sure, we've boasted about our fantastic crew, but we're always welcoming new faces and we'd love to chat! Email our Staffing Coordinator, Marivic, here. (Tip: She's a BIG Broadway theatre fan, so don't hesitate to mention your favorite show!)
The michael alan group is a full-service experiential marketing agency & event production company. Check out our work and our team, and drop us a line to chat about selecting the perfect staff for your next activation.