We've been planning and executing productions and events for over 15 years. This is the first installment in our series on Small Changes, Big Gains, where we explore 10 simple ways to elevate your event.
Lighting the Room
Event spaces that look great in sunlight often lose their charm when the stars come out. For all of its subtlety, quality lighting is essential for creating just the right aesthetic. But too often a lighter event can also mean a lighter wallet. That's why we decided to lead off with three simple ways to turn up the ambient light:
1. With Fire: Humans have been using fire as a light source for… well, a while. But since Thomas Edison, firelight has become dramatically less common. And, as a consequence, it's also become dramatically more charming. So consider candlelight to price down and class up your next event.
2. With Bulbs: Speaking of Thomas Edison, the light bulb may have been a technical marvel at the turn of the century, but today it's a symbol of elegant simplicity. If Smoky The Bear gives you grief over candlelight, you can still bypass elaborate lighting rigs by suspending bulbs from the ceiling. The less embellished the better. And bistro-style string lights yield equal the charm for half the hassle.
3. With Video Projections: So far we've taken advantage of historic (and pre-historic!) solutions. But new technologies can often offer equal efficiency. Save big and light well by directing the glow of video projectors against reflective surfaces. This is particularly effective in tents.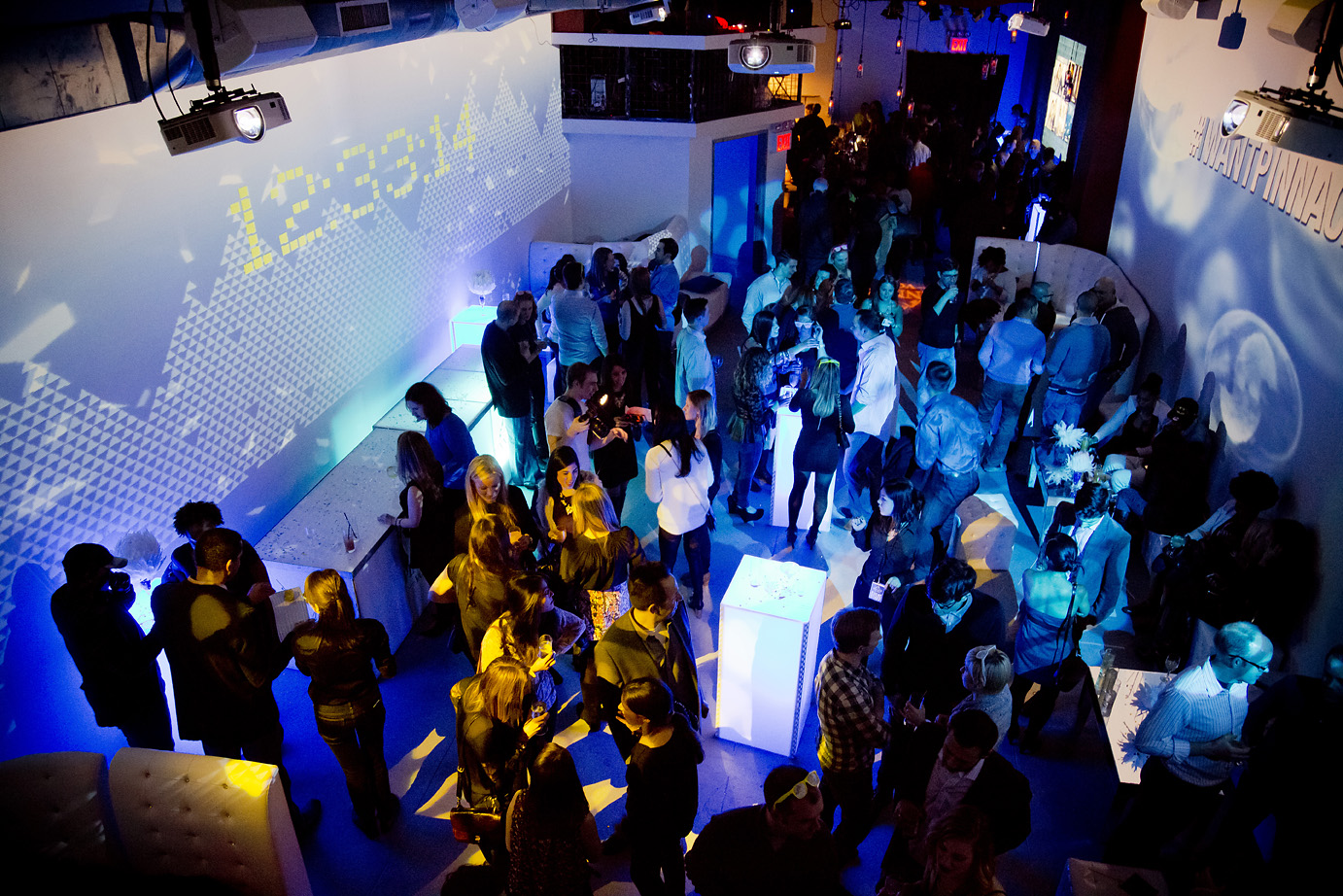 Believe it or not, the entire space for the Pinnacle Cinnabon 24 Hour Brunch was filled with white walls. Video projections brought the party to life.
Adorning the Walls
When brands look to make an event space their own, they often begin by filling wallspace. But signage, art, and drapes can consume resources that are better spent wining, dining, and entertaining guests. So how do we dress the walls efficiently without compromising on style?
1. With Clings: Wall and mirror clings can give your space character without crowding your footprint or cramping your style. Simple, versatile, inexpensive, and attractive — what's not to love?
2. With Balloons: Wait. Hear us out. Balloons are actually just as flexible in function as they are in form. We've seen them floated to the roof as elegant ceiling décor, repurposed as step-and-repeat paneling, and bunched together as colorful accent pieces. They look great, cost pennies, and leave guests marveling at your ability to make beauty from nothing.
3. With Lights: To enhance the drama of your décor, consider uplighting the walls with rich, candy-crush colors. Or, if your event palate is more subdued, consider gels on the white-to-gold spectrum. We also love uplighting walls because doing so can provide plenty of ambient light, assuaging two of our concerns at once.
Setting the Tables
And then, of course, there's the task of impressing your guests when they get to the table. It's always good to have strategies that are both affordable and chic.
1. With Menus: A visually-appealing branded menu with quality copy gives guests something tangible that they can handle and interact with. And if its look is in sync with the event's other design elements, the menu can reinforce and enhance your chosen aesthetic.
2. With Mason Jars: You probably don't need us to tell you that mason jars are coming back in a big way. Not only do they combine value and utility, but they also speak to your brand's cultural awareness. Plus, they're extraordinarily versatile. You can load them up with wildflowers for centerpieces or fill them with lemonade. Top that with a lemon wedge and a fancy straw and everyone will think you're Martha Stewart.
3. With Linens: Even when the plates and their contents disappoint you, upgraded linens can seriously upgrade elegance. And if next-tier tablecloths don't seem feasible, a simple improvement in the quality of napkins can achieve the same effect. As with the menu, napkins are one of the few items at the table that guests actually spend time handling.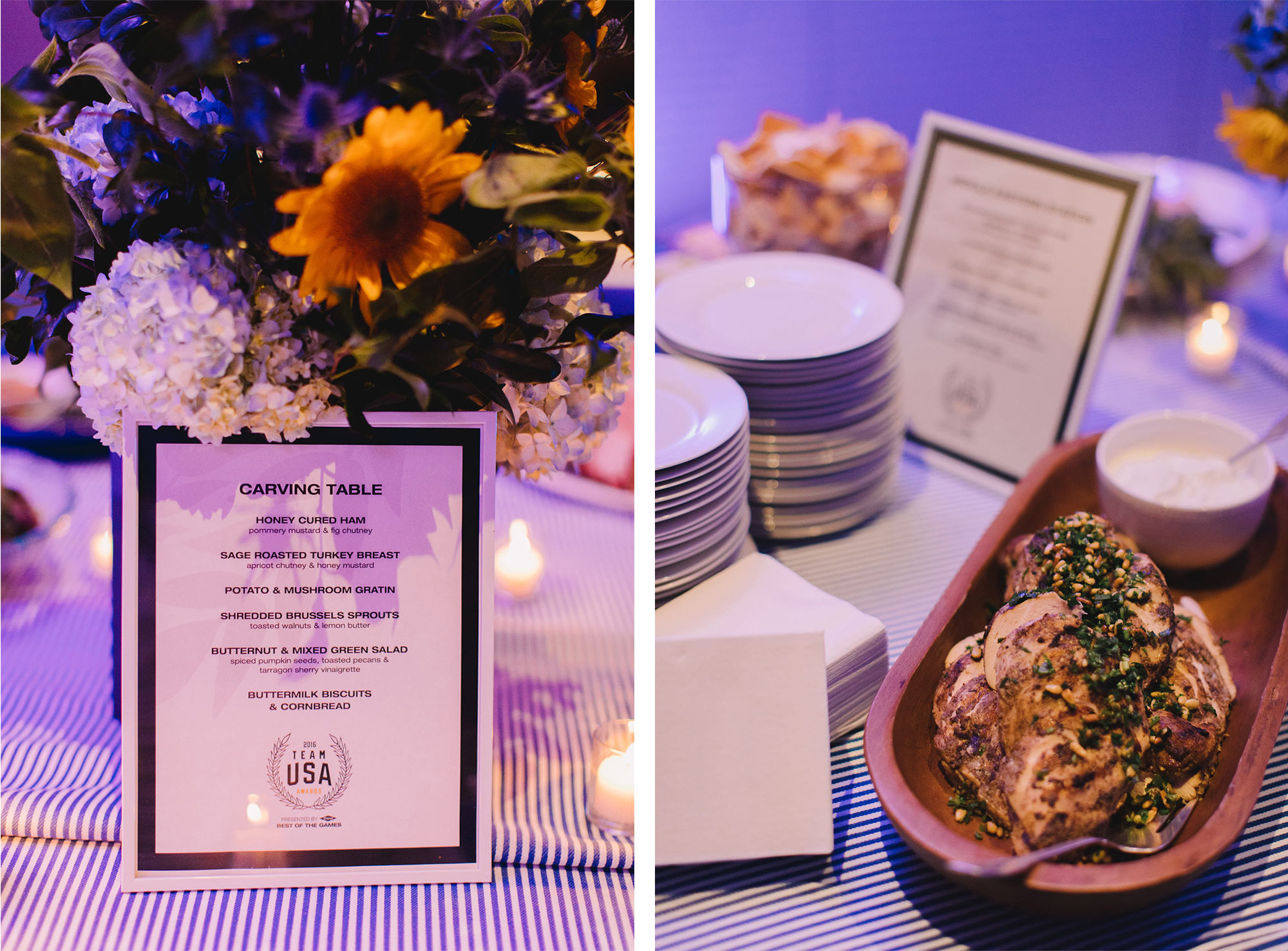 The after party following the USOC 2016 Team USA Awards incorporated several items on this list, including candles, custom menus, and quality linens.
The Golden Rule
If you've been keeping count, you'll notice that we're 1 solution short of our promised 10. That's because we've been saving the best for last. Here's our golden rule for enhancing quality while avoiding sticker shock.
With a theme: When it comes to event planning, no single element can have as large an impact as theme. And we're not even talking about the content of your theme here. Whether you pick thrifting as your theme to match the moment or go with black-and-white to match your guests' apparel, what matters most is coherence. If every element — lights, walls, table, menu, entertainment, and beyond — speaks clearly to your theme, your event will look great. Plus, it will guarantee success when it comes to the real purpose of the event: communicating your message.
The michael alan group is a full-service experiential marketing agency & event production company. Check out our work and our team, and drop us a line to chat about upgrading decor at your next event.