To welcome in the New Year, we've put together our predictions for all the ways that experiential marketing is going to evolve in 2017.
More Innovation
If you're having trouble distinguishing fantasy from reality, you might be losing your mind. Or you might just be well read. In 2017, tech gurus are going to halve the gap between science and science fiction.
We're already 3D-printing jet engine parts, and 3D-printed organs are beginning to reach clinical implementation. Virtual and Augmented Reality techs have become so advanced and so diverse that we recently published a clarification of which technology is which. Uber's using autonomous cars and toddlers are coding robots. Meanwhile LG is prepping LED screens that you can roll up and stick into an overnight bag, and, in January, SpaceX will host a hovercraft race.
These innovations will continue to have a tremendous influence within the B2B event space as conferences and exhibitors explore new ways to wow attendees. We anticipate that brands will discover novel utilizations of augmented, virtual, and mixed realities. They will aim to cater to millennials with interactive and projection mapped displays. And they'll break through the noise with disruptions that fuse the brilliant with the ridiculous.
But even more important than the New Year's innovations in tech will be its innovations in format. In 2017, we'll see the continued evolution and distention of the unconference.
The unconference harnesses the power of crowdsourcing to create collaborative sessions specific to the interests of participants. In 2017, more programming will be scheduled on-site and sessions will become a locus of conversation instead of presentation. Conferences will spotlight the personal strengths and needs of the attendees rather than the agendas of conference organizers and keynote speakers. We'll also see new approaches to conference space as well — whether that means taking conferences outside or encouraging networking around interactive installations.
But for all the stylistic innovations we're going to see in B2B events, content will always take precedence over form.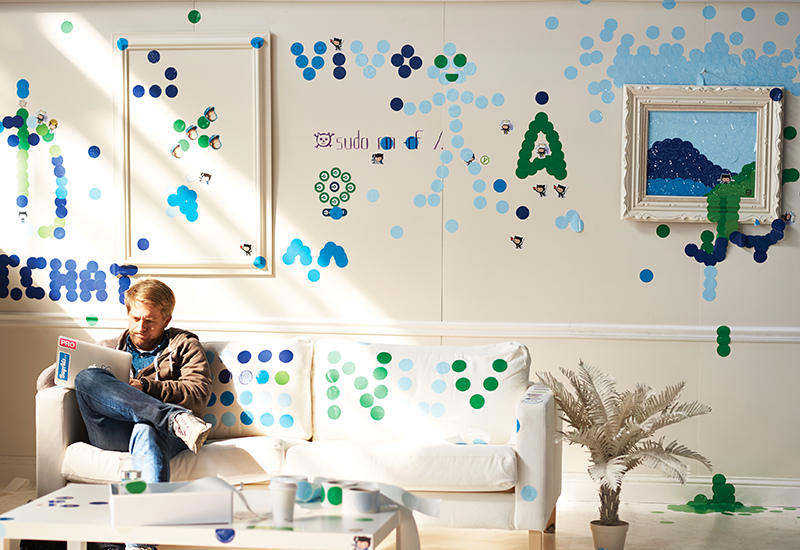 Inspired by Yayoi Kusama's Obliteration Room, GitHub brought this interactive element to their user conference, GitHub Universe. Attendees were invited into the entirely white space and encouraged to decorate the room with colored stickers. Photo courtesy of Event Marketer.
Increased Branded Content
An event is only as good as the content it delivers. That's why you're going to be reading a lot about event capture in 2017. We'll all be exploring better ways to transform live experiences into immersive offline/online combos that amplify the reach of campaigns exponentially.
Toward the end of 2016, the tech industry sent us a host of exciting new toys to play with in the New Year. To give Snapchat Stories some healthy competition, Instagram and Twitter launched "Stories" and "Moments" features respectively. Instagram also added an Events Channel that will collect videos from major events and put them in front of the users most likely to be interested. But perhaps the most exciting innovations came from Snapchat: in addition to offering improved metrics, Snapchat released On-Demand Geofilters, and Snapchat Spectacles. We also expect to feel reverberations from Pokemon Go, which popularized and gamified mobile-powered Augmented Reality.
In 2017, we're going to see event planners exploring creative ways to harness these new technologies for improved content quality and reach. But the biggest shift won't come from the megacorps, it'll come from the little guys: Influencer amplification is going to become the new standard for cascading content because brands that partner with influencers are able to target consumers with near pinpoint accuracy. Influencers' hyper-specific brand advocacy far outshines any messaging that's crafted to resonate across broad, traditional demographics.
New Tentpoles
Even if we're expecting broad-demographic strategies to phase out, don't expect major tentpole events to disappear any time soon. People are still going to be watching the Superbowl in 2017 and Comic-Con is only growing. The same goes for SXSW, CES and Sundance. These have always been great places to activate and that'll be no different in 2017.
But traditional tentpoles won't have the stage to themselves anymore. Just as we expect to see influencers in the spotlight, we're also anticipating that smaller events will be moving down-center. That's why we're always on the lookout for niche events that are seeing remarkable growth. The Summit Series will partner with any brand that shares its ideals. Likewise with the Aspen Ideas Festival. Athletic brands might do well to activate at a Ragnar relay race, women's brands at The Yellow Conference.
The brands at these "tentpole boutiques" have been able to engage niche audiences face-to-face. Rather than promoting general awareness, they've focused on building deeper alliances with smaller communities.
From giving conference attendees the scheduling reins, to partnering with community influencers and boutique events, 2017 is going to be the year of getting personal. Your brand's going to want to meet the consumers where they live, where they work, and where they play.
The michael alan group is a full-service experiential marketing agency & event production company. Check out our work and our team, and drop us a line to discuss where experiential marketing fits in your 2017 strategy.